Galvanized Wire Mesh Catalog
Galvanized Wire Mesh - Hardware Cloth and Fencing Material
Galvanized wire mesh is mostly made with large opening sizes. Hot dipped galvanized, with excellent rust resistance and a long service life, Galvanized Wire Mesh makes an economical fencing and hardware cloth material. Firstlin is the leading supplier and manufacturer of industrial galvanized wire meshes, offering a full line of wire and wire mesh cloth products for a wide range of applications.
We export full range of square holes wire mesh screen, galvanized hardware cloth weld wire mesh, welded wire fence, pvc coated G.I wire, galv. after welding wire mesh, galv. wire mesh racks for display and pallet storage, galvanized hexagonal wire mesh, galvanized steel expanded mesh and perforated for construction, galv.chain link mesh for primary security line (PSL) fence, partition and various industrial uses.
Hexagonal Hole Wire Mesh
Hexagonal wire netting is made by twisting in the straight direction and reverse direction to form a hexagonal opening. Firstlin is experienced on hexagonal wire netting making and fabricating. We supply both the finished hexagonal wire mesh products and the hexagonal mesh machines for wire twisting.
Hex mesh is mainly used in workshops, and for window screen, chicken run, coops, rabbit fence, tree guards, drain gutter, garden fence.
Galvanized Welded Mesh
Welded wire mesh is generally constructed in rolls or flat panels with a variety of wire diameters and opening size in firm welded structure. Welded wire mesh is economical and versatile with a clean appearance and uniform grid patterns. This wire mesh product can be produced in many materials, such as iron steel wire, stainless steel wire, coated wire.
We produce quality welded wire mesh with our state-of-the-art, automated, mesh welding machinery. Line and cross wires lay flat at each intersection and are welded for maximum cross-sectional strength. Welded Mesh GAW type is made through Galvanized after welding process, hence enjoying an excellent corrosion resistence and making an ideal perimeter fencing material. Economical and durable, galvanized welded mesh is commonly used in building, construction and fence applications.
Galvanized Steel Chain Link Fence

Chain link type wire mesh nettings are high tensile flexible fence panels for barrier and protection uses. The spiral woven structure, the flexible and springy texture, together with the high tensile strength make galvanized steel chain link fence a high tensile steel fence. It is ideal for field fencing and horse fencing. The galvanized steel wire mesh fence fabric gives the fence linear strength and springy texture. It will absorb part of the force and protect horses from injury.
Top Ends and Opening Shape: Two top ends applied: barbed tape concertina or common knuckled end.

Electro Galvanized Steel Chain Link Netting or Hot Dipped Galvanized ?
Material: Mild steel wire
Electro Chain Link Wire Mesh With 7-15G per Square Meter Zinc Coating;
Hot Dipped Galvanized Chain Link Wire Mesh With 35-400G per Square Meter Zinc Coating
Hot dipped fence netting consume much quantity of zinc and cost higher than galvanized steel chain links. At the same time, it offers stronger corrosion protection layer and serves longer time. So, choose electro galvanized wire netting fence for economic cost and the hot dipped one for longer application demand.

Plastic Coated Wire Mesh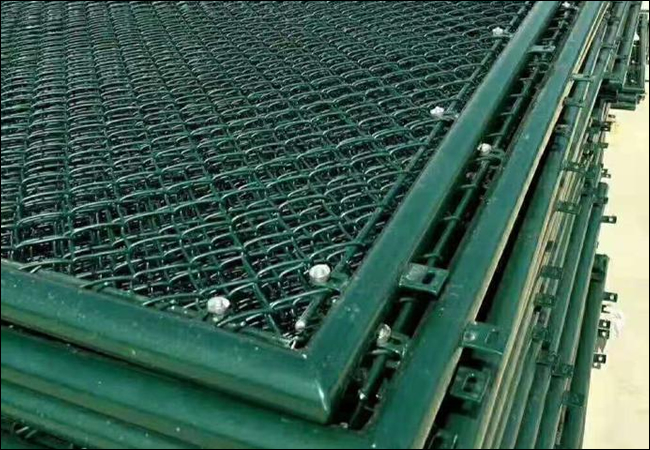 PVC coated wire mesh is made in a variety of materials including carbon steel and galvanized steel, then powder coated with pvc or polyester. The plastic coating provides additional protection to the galvanised mesh. All panels are pre-galvanised before welding and PVC coating.
Plastic coating is relatively low in cost, resilient, corrosion resistant, and has good insulating properties. PVC mesh finds applications from indoor machine guarding to outdoor residential fencing.
Crimp Wire Mesh

Crimped mesh screen made of carbon iron wire, high tensile galvanized wire,stainless steel wire or copper wires. All the wires are crimped prior, then weave together. Crimped wire mesh is mainly used for window guarding, partitions, shelves. It has several industrial uses like heavy screening and sieving of coal and lime.
Square Hole Wire Mesh

Square Wire Mesh is a kind of commonly used industrial galvanized wire mesh hardware cloth. Woven or welded, for screen enclosures, window screen, railing infill panels, fan guards, filtration systems and many other applications. Materials are Copper, Aluminum, Carbon Steel, Galv. Iron, Stainless Steel.
Stainless Steel Welded Wire Mesh

Stainless steel welded wire mesh is strong and long lasting, needing no additional finish, such as galvanizing or PVC, to protect it. The ss wire itself is extremely resistant to rust, corrosion and harsh chemicals. Stainless steel welded mesh material has high strength, excellent corrosion resistance, integrity and durability. Ideal for sea shore areas, outdoor industrial uses and building materials.
Aluminum Mesh
Brass Mesh, Copper Mesh